July 4th, 2006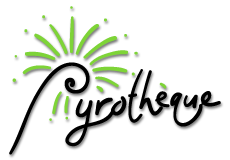 (Barely) in time for the fourth of July, I'd like to announce the first release of Pyrothèque, my new fireworks screen saver for Mac OS X. Four years (off and on) in the making, it's my favorite OS X project yet; it combines elements of the old and the new in a simple, clean presentation. In short, it's toasty. Read on for the story.
I got the idea for Pyrothèque back in 2002, after I'd finished my first batch of screen savers:
a set of homages to my favorite add-ons for the BeOS screen_blanker. In thinking about my fascination with these little distractions, my mind meandered back to 1989, the year I first got my hands on a Mac (the Pluses and SEs in the Eastern I.S. lab, to be precise). Most of the Macs ran John Lim's free Møire screen saver, but a lucky few ran Pyro!™, a saver from Fifth Generation Systems.
It was so simple: a "rocket" (really, just a handful of white pixels) appears at the bottom of the screen, scratches out a lazy parabola, and explodes into a crude ring of sparks. It was downright hypnotic. Occasionally you'd get one or two bonus explosions out of a single launch. Ka-boom!
[Aside: Those looking to take an extended trip down memory lane need look no farther than System 6 Heaven, which has copies of Møire and Pyro! available for download. Note that Pyro! is still copyrighted software, so the legality of downloading it is questionable, but—as is generally the case with abandonware—there seems to be no one left to complain.]
Pyro! inspired competitors in the (briefly profitable) commercial screensavers market; the best known of these is of course Berkeley Systems' After Dark software (read an early review, circa 1989).
In the ensuing screen saver war, Pyro! fell behind and eventually disappeared. After Dark introduced a number of "modules", including (in version 2.0) Ben Haller's Lunatic Fringe (a topic for another day); Pyro! 4.0 also introduced modules, but they were never as compelling (or as numerous) as their After Dark counterparts.
The Pyro! denouement goes like this: Symantec bought Fifth Generation in 1993, so it could acquire and destroy 5th's competing backup software. A casualty of this was Pyro!, which Symantec quickly abandoned.
Of course, the entire business of selling a screen saver "platform" dissolved as operating systems began to include their own screen-blanking functionality. (Windows 95 was first to roll it in;
BeOS had the aforementioned screen_blanker; Apple was a latecomer here, finally acquiring a screen saver service and API in Mac OS X. Hey, NeXT historians: Was BackSpace, or something similar, ever folded into the OS?) In the end, Pyro! has been (nearly) forgotten, reduced to a mere footnote in the screen saver story.
Until now, that is. A few weeks ago I dug up my old fireworks screen saver code (essentially unchanged since late 2002, when I deemed it "good enough" for my own personal use, and promptly forgot all about actually releasing it). I cleaned up the code, made it a Universal Binary, and added some flashy new effects, and the result is Pyrothèque. Go get your retro on!